Panel debate: "Popular education as an organizing tool"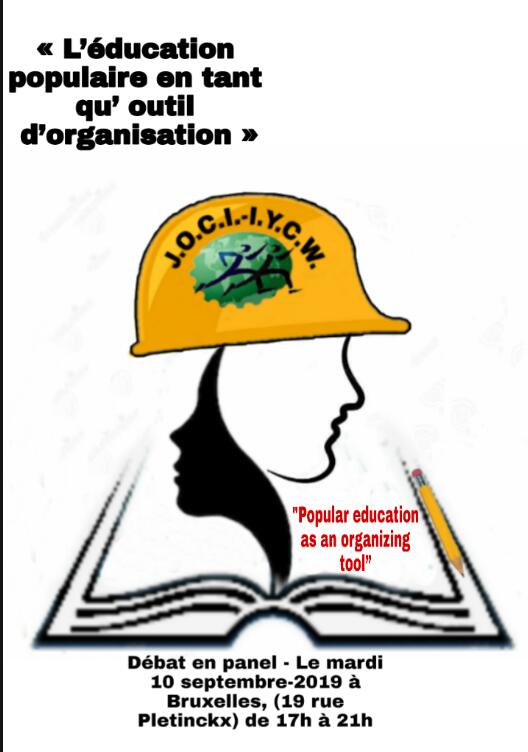 INVITATION
Please mark your calendar!
The International YCW, with the support of the International Cardijn Association and the ACV-CSC, is pleased to invite you to a panel debate on the theme: "Popular education as an organizing tool", its challenges and opportunities in the era of globalization, digitization, work precariousness/unemployment".
The panel debate will be held on Tuesday 10 September in Brussels, (19 rue Pletinckx) from 5:00 to 9:00 pm.
The program is an integral part of the International Team's plan of work and the international seminar and exchange due to take place in the month of September. It will be a great opportunity to meet friends, activists and long-time fighters, but also the current members of the International Team, leaders of different continents participating in the exchange and the International Team meeting, representatives of the Walloon JOC, KAJ, Spanish YCW and CAJ (Germany), some of whom will take part in the exchange, as well as friendly social organizations.
We will rely on the collaboration of a number of social actors in the panel. Potential speakers are:
Sarah Prenger, president of the International YCW; Luc Carton, philosopher, associate researcher with the Marcel Hicter association for cultural democracy, vice-president of the Fribourg (Switzerland) Observatory on diversity and cultural rights; current leaders of the movement; representatives of the trade union movement (CNE/ACV-CSC) and of people's and women's movements, and institutions such as the ILO and COMECE.
We will speak about their experience in organizing social actors, considering the challenges raised by today's reality in the practice of (lifelong and) popular education (as a form and process of people's organization).
A drink will be offered at the end of the debate.
We hope that you will honor us with your presence and we ask you to be so kind as to confirm your participation with the International YCW secretariat: This email address is being protected from spambots. You need JavaScript enabled to view it. by 20 August at the latest.
You are most welcome to attend our event!
The ICA team and the IYCW International Secretariat
Note: there will be simultaneous interpretation into French/English/Dutch.