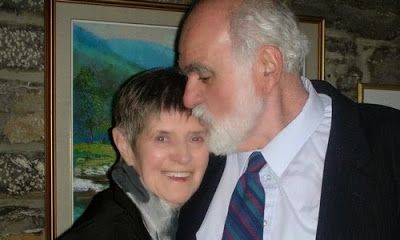 Romeo Maione, first elected president of the International YCW, has died after a long illness on 12 May 2015 at the age of 90.
As a Montreal industrial worker, Romeo first joined a YCW group organised by Fr Wilfred Dore CSB. This decision transformed his life.
Rapidly he became a national leader and national president of the Canadian YCW.
Given his ability and his command of the Italian language, the IYCW recruited him in 1956 to organise the International Pilgrimage to Rome which drew 32,000 young workers from every inhabited continent, an extraordinary achievement in those days before jet travel.
An Interesting Young Man and a Zealous Christian
Romeo was then elected as international president of the IYCW at the First World Council which followed in September 1957.
"Maione was an interesting young man, a big, tough-looking type who was at that time the international president of the Young Christian Workers and one of the most zealous, attractive Christians I have ever had the pleasure of knowing," wrote John C. Cort. "Raised by Italian parents in Montreal, he was equally fluent in English and French as well as Italian, thereby solving the problem of simultaneous translation."
A Memorable Meeting with the Pope
Romeo was with Cardijn at his memorable first meeting with Pope John XXIII in 1959.
Pope John said to Romeo, "Maione is an Italian name. Do you speak Italian?" "My parents are Italian and I was born in Canada so I speak a dialect", replied Maione. The Pope then asked him to speak in his dialect and he would try to identify his family area in Italy. After saying a few words the Pope replied: "You come from Campo Basso." Maione replied: "No I come from about 150 kilometers away." The Pope then replied: "Well in these things even a Pope is not infallible but I was close."
Later after completing his term with the IYCW, Romeo played a significant role at the Third World Congress on Lay Apostolate also in Rome in 1967.
In 1962 he became Assistant Director of the Social Action Department of the Catholic Bishops Conference in Ottawa, and later Assistant Director of International Affairs with the Canadian Labour Congress.
Investigating Working Conditions
In 1965, he was appointed by Prime Minister Lester Pearson to become a union representative to investigate working conditions in the Canadian Post Office.
In 1967, he became the first Executive Director of the Canadian Catholic development agency, Development and Peace.
In 1976 Romeo joined the Canadian International Development Agency, (CIDA), as Director of International Affairs, and spent two years in Canberra, Australia with CIDA during the 1980s to help develop a NGO program along the lines of the Canadian structure. At CIDA he also worked to strengthen ties with the labor unions, NGOs and the francophone community.
Involved in a Project for Vietnamese Refugees
In Canada in 1979, he was chairman of a committee to oversee Project 4000, an organization set up by the late Mayor of Ottawa, Marian Dewar, to assist 4000 Vietnamese refugees to settle in Canada. In 1987 he received an invitation to participate as a Canadian delegate to a Catholic Synod "On the Laity" called by Pope John Paul II in Rome.
In November 1982 he was the keynote speaker at the Cardijn Centenary Seminar in Melbourne, Australia.
In 1998, his proposal that Cardijn should be declared a Doctor of the Church was taken up by a meeting for former international leaders of the IYCW.
For 59 years, he was the beloved husband to Betty Maione, father of Alfred (Bee Hastings), Martin (Lena Cesario), Cathy (Ernie Zwarts), John (Nathalie Phipps), grandfather to eleven grandchildren and one great-grandchild. Loving brother of Elma Santache, Gilio Maione and Edmond Maione.
The University of Ottawa awarded him an Honorary Doctorate in Social Sciences in 1970.
(Source: Cardijn.info)